tl;dr
This novel about the serial killer Peter Manuel is simply astonishing.  I can't hype it enough.
opening remarks
Denise Mina's The Long Drop has been on my TBR pile since it was published.  But, as often is the case with me, it takes an awards list – the Gordon Burn prize again – to get me off my arse and read the novel.
knee-jerk observations
I can't say for certain if this is the best opening sentence I've read all year, but it's right up there:

Based on the first 50 utterly engaging pages The Long Drop would appear to be a fictional account of Peter Manuel's killing spree in Glasgow during the 1950s.  For reference this is Manuel's mug:
Of course, the novel isn't as simple as recounting Manuel's awful crimes – mostly against women.  In fact, Manuel is almost a side player in his own story – at least to begin with – with a greater focus on prominent Glasgow solicitor Laurence Dowdall.  The lawyer had, as clients, both Manuel and William Watts, the owner of a chain of bakeries, who was a suspect in the murder of his wife, daughter and his wife's sister, three women who may have actually been killed by Manuel.  It's all a bit complex, but utterly fascinating given I know nothing about the case.
The novel alternates – at least initially – between Peter Manuel's court case in May 1958 and the months leading up to the proceedings including a boozy meeting between Manuel and Watt where they discussed the possible location of the murder weapon used on Watt's family.  During the court case, Watt is asked why he would spend the night with the man he suspected murdered his wife and daughter.  Watt's explains that he had no choice, he needed to know the location of the gun Manuel used because the cops, convinced Watt was the murderer, weren't willing to explore other options.  While recounting the court case, which is gripping and grisly (especially when Watt relives seeing his dead wife and daughter) we get these neat little asides from Mina explaining some of the oddities of the Glasgow court system in the 50s.  It's just one of the narrative quirks that make for such gripping reading:
The interior lives of real people would be the hardest thing to pull off in a historical novel.  I'm sure Mina did a shitload of research but I'm in no doubt that this is a typical train of thought for William Watt.
The chapter where the police officer finds the brutalised bodies of the Smarts in their home is astonishing.  Tense, graphic, harrowing.  It even has a dab of humour: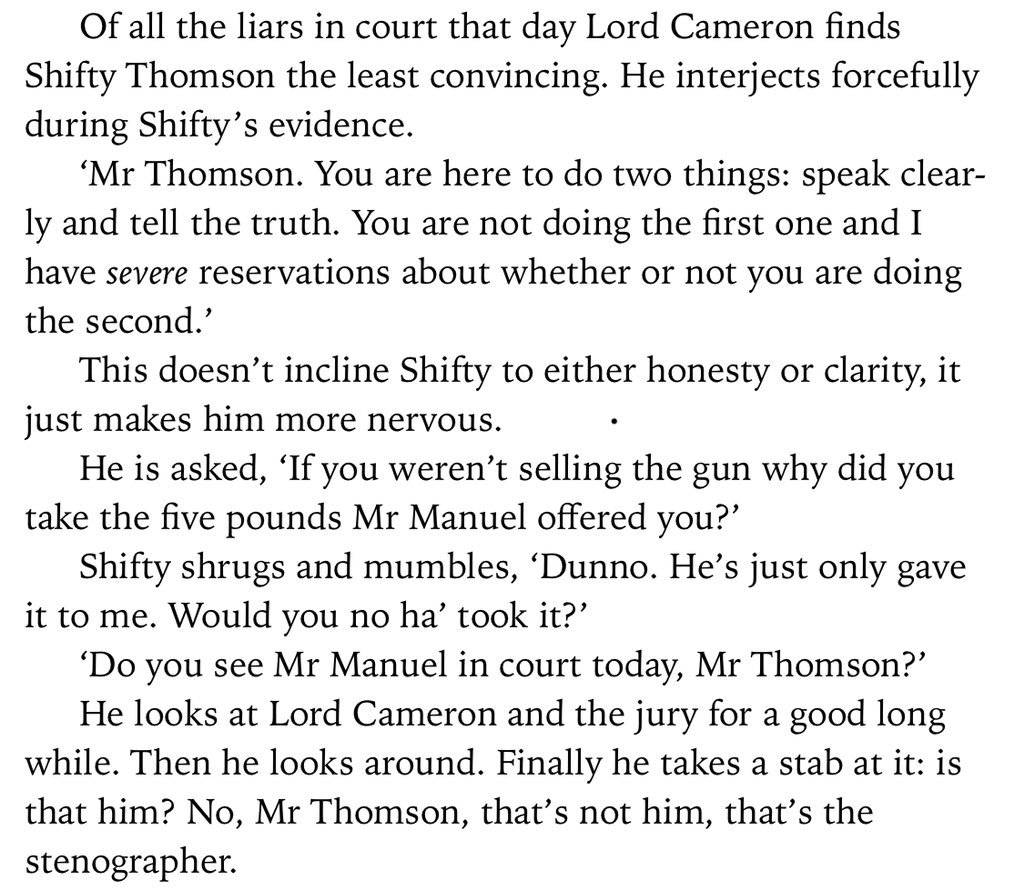 I couldn't find a decent enough picture of Glasgow crime boss Samuel 'Dandy' McKay so you're going to have to settle for Mina's magnificent description of him: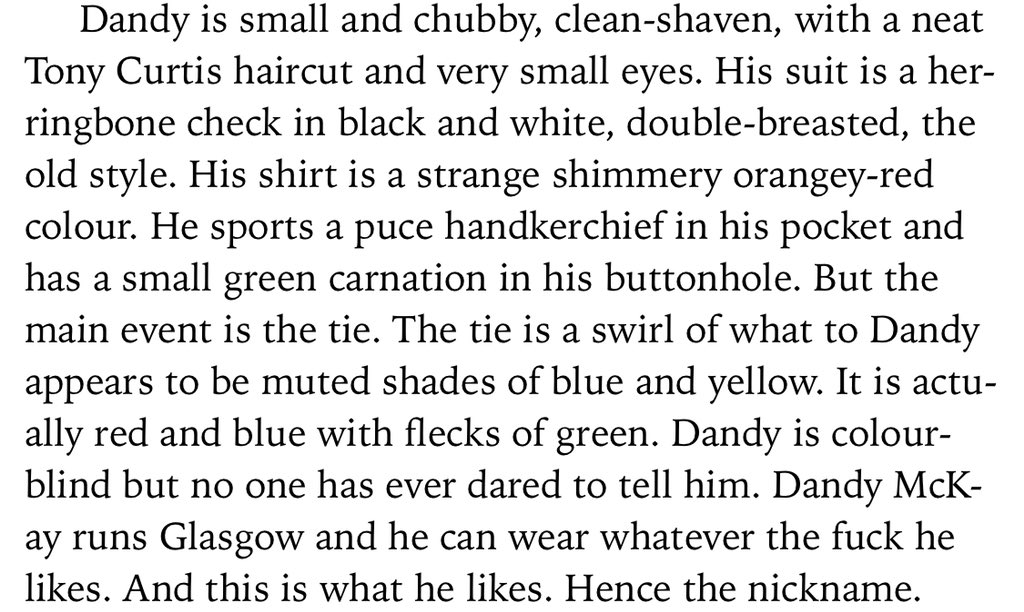 I'm in admiration of the way Mina employs tone and voice in this novel.  The shift in perspectives – from a police officer to an underworld boss to a prominent, if shady, lawyer to a mother praying for the well-being of her violent son – means the novel is tense and chilling and comedic and colourful and sad and tragic.  The chapter where Brigit Manuel is called to testify on behalf of her son – who has fired his lawyers and is now running his own defence – is this beautiful and moving portrayal of a broken-hearted mother leaning heavily on her faith.
This is an extraordinary piece of writing:
The Gist Of It
It's no wonder that Denise Mina won this year's Gordon Burn Prize because The Long Drop is an incredible novel.  Her control of language, her ability to switch tone and voice, her profound observations into the interior lives of these living, breathing people, all of it is perfection.
While Mina never shies away from the fact that Peter Manuel is a cold-blooded killer – although there's some ambiguity as to how many people he actually murdered with the suggestion that he might have been a patsy for a couple of the killings he's accused of – she does the extraordinary job of… not humanising Manuel… but putting him into context, providing an explanation of why he might have turned out this way.  Manuel, from his perspective, is a man immersed in his own narrative where he's the hero, has the best lines and everyone else is a fool.  The most wrenching scenes are those from the point of view of his mother who has to come to terms that this person, blithe to the pain he has caused, is her son.
Mina also doesn't forget that Manuel's victims – and victims of violent crimes in general – are more often than not women.  Manuel's complete disregard for the two 17-year old girls he is accused of murdering is symptomatic of a society that to this day fails to adequately recognise or treat brutal acts against women.
But there's so much more going on in this book, whether it's a peek into Glasgow's underworld or providing insights into the legal system and court structure at the time.  The novel is powerful, chilling, sometimes laugh out loud funny and educational. And if I haven't already said it multiple times the prose is sublime.  Even if you're familiar with Peter Manuel, Scotland's first modern serial killer, you still need to read this book just so you can be exposed to a writer in complete and utter control of her craft.