tl;dr
A strong debut novel that considers the question of race over three generations.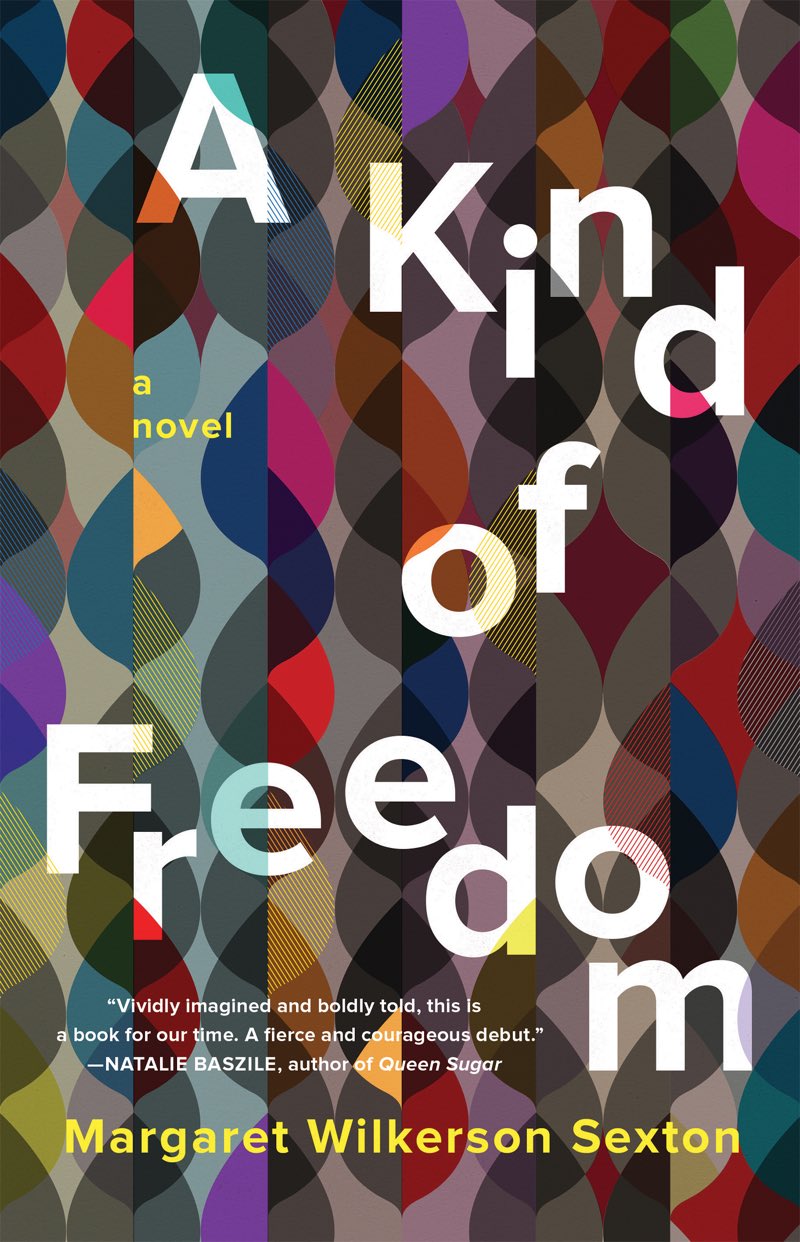 Opening Remarks
A Kind of Freedom with its jazzy cover, is a debut novel by Margaret Wilkerson Sexton. It was longlisted for the National Book Award.
KNEE JERK OBSERVATIONS
Like Min Jin Lee's Pachinko, A Kind of Freedom is a multi-generational novel.  Unlike Pachinko it's half the size.  I do appreciate brevity in my fiction.
The multi-generational aspect of the novel is split between three narrative strands sets at different points in time.  So while Pachinko was an entirely linear story unfolding over five decades, A Kind Of Freedom moves forward and then backward in time.  It's a far more interesting approach and I'm interested to see how Sexton plays with it, whether she uses the structure to foreshadow future events and whether she asks the reader to join some of the dots between the different time periods.
On reflection the novel's non linear structure isn't about tricksy plot twists but rather creating a sense of the inevitable.
The first chapter, set in Louisiana in 1944, is a sweet love story punctuated by shocking moments of racism:
Our three narrative strands are as follows: Evelyn, 1944 – she's in her early twenties living in Louisiana and she's just met the love of her life Renard.  Skip fourty-two years and we move to Jackie, Evelyn and Renards' second daughter.  Jackie is in her early 30s.  She's raising her newborn son on her own until one day the love of her life and the boy's father, Michael, comes home saying he's been clean from drugs for two months.  Finally we jump another twenty-four years to 2010 where we meet T.C. Jackie and Michael's now grown-up son.  When we first meet twenty-four year old T.C. he's being released from prison. It appears he sells drug on the streets.
This scene involving an interrupted blowjob, a knife wielding boyfriend and a Mama armed with a Glock isn't just awesome (and a tad funny) it shows off Sexton's range as a writer.  She can do the innocent, sweet love story, the tired emotional drained wife dealing with her husband and his addiction to meth and then this set-piece – blowjobs, knives and Glocks.
This is the always the point in the movie where everything that follows goes to shit:
And, surprise, surprise it does all fall apart moments after this scene.  Yes, it's predictable but only because T.C. faces a system that seems hell-bent on putting him back in jail.  (Although, as I note below, Sexton makes a point of levelling blame on boys like T.C. who seem reluctant to take responsibility).
The Gist of it
I initially compared A Kind Of Freedom to Pachinko but in reality the book has a much closer tie to Jesmyn Ward's Sing, Unburied, Sing.  I didn't plan to read them back to back, it's just how things turned out as I continue to make my way through the National Book Award longlist.
Both novels deal with the question of race in America by (a) drawing a direct link between the past and the present day and (b) exploring this fraught question from the perspective of three generations of the one family.  Overall, I think Sing, Unburied, Sing is the richer novel in terms of theme and plot, but A Kind of Freedom is not far behind.  Splitting the story across three time periods creates a sense of fatalism and yet also makes for gripping reading.  The sections dealing with T.C. – the son of Jackie – and his talent for growing primo bud could have been a season of The Wire or some other must-watch-TV by David Simon.  I also found myself connecting with Evelyn and her family  more than I did with River, JoJo and Leonie (from Sing, Unburied, Sing).  When I shed a tear at the end of A Kind Of Freedom I didn't feel manipulated, Sexton had earned that reaction.  When it comes to race I think Sing, Unburied, Sing is the more profound and nuanced novel.  A Kind Of Freedom, sadly, just confirms what many in the US already know, that in large parts of America – New Orleans being the exemplar in this book – systemic racism over a number of generations has meant that even when people of colour achieve a limited sort of success the system will continue to discriminate and undercut them.  Sexton doesn't level all the blame at Government or white people she also points the finger at people like T.C. and his father Michael who have let their families down by not taking responsibility for their actions – although to be fair to T.C. by the end of the book he is trying to rectify that.
This is a fantastic debut novel and I'm a little gutted that it didn't make the final five for the National Book Award.